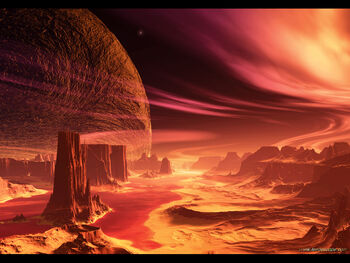 DTP-27
(Deron Territory Planet #27) is one of
Deron's
many planets. However, it is unique in most of it's features.
Odd Features
Edit
DTP-27 was once covered in copper-inriched water similar to that of Centralia. When most of the water mysteriously evaporated, huge copper formations were left behind, the most famous being C-Freighter Rock. The clouds are red because of the copper, the core is made of molten copper, and the planet has no rocks at all. Even the planet's native inhabitents are spirits that animate copper body forms. The planet has an impressive solid ring that is about 100 miles wide. It is made of copper and is called "The CD", for it's shape.
Ad blocker interference detected!
Wikia is a free-to-use site that makes money from advertising. We have a modified experience for viewers using ad blockers

Wikia is not accessible if you've made further modifications. Remove the custom ad blocker rule(s) and the page will load as expected.