Republic of Gaugon (GAU)

Gaugon's current logo.

Type

Antagonist

Group Category

Singular Group

Status

Operating

Marins Active

200415 - present

Ex. Administrator

Gage
Gaugon
is a minor squadron created in 200415 by Gage, it's leader.
Gaugon was created in Marin 200415, and is made up mainly of people from
Tanon
who had more
Ethon
-like ideals. They negotiated with Tanon's central government and eventually formed their own group. Immediately after it's creation, Gaugon joined the
Axis Alliance
.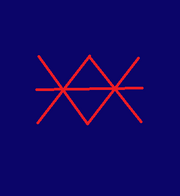 Gaugon's leader (Gage)'s name is spelled "Gage" not "Gauge", despite the fact that the squadron's name is spelled the other way.
Gaugon only owns Metra-Brooke Heavy Industries-built ships.
Ad blocker interference detected!
Wikia is a free-to-use site that makes money from advertising. We have a modified experience for viewers using ad blockers

Wikia is not accessible if you've made further modifications. Remove the custom ad blocker rule(s) and the page will load as expected.