The
Marinaic Calendar System
(also called the UCC Calendar) is a calendar system based on
marins
. Each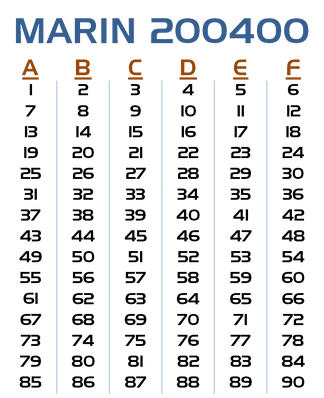 cycle through the calendar contains one marin. The format used for signifing a day is (Colomarin : Marin)
Calendar Format
Edit
To the right is a picture of how a Marinaic Calendar is set up. This shows the full calendar, although a marin is split into three separate units of time, known as hypramarins. Each cycle contains 90 colomarins.
Basic Units of Time
Edit
Marin - 90 colomarins.
Colomarin -  Equal to 1 Earth day.
Vetamarin - 6 colomarins.
Hypramarin - 30 colomarins.
Metamarin - 5 marins.
Decamarin - 10 marins.
Conta - 20 marins.
Pentaconta - 100 marins.
Decaconta - 200 marins.
Multraconta - 500 marins.
Ennead - 1K marins.
Polyennead - 10K marins.
Decapolyennead - 100K marins.
Myrinm - 1M marins.
Myritont - 10M marins.
Myrimace - 100M marins.
Ebyo - 1B marins.
Ad blocker interference detected!
Wikia is a free-to-use site that makes money from advertising. We have a modified experience for viewers using ad blockers

Wikia is not accessible if you've made further modifications. Remove the custom ad blocker rule(s) and the page will load as expected.