Sieni
are mushroomlike creatures developed by
Metron
. Sieni are white and about a foot tall, with two small black eyes. Sieni appear harmless but are poisonious to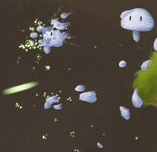 the touch and explode in a rain of sulfuric acid when killed. A Sieni loses its roots once fully grown, and they take only a few seconds to grow from seed to full grown, like
Man-Eaters
. Once fully grown, they can hop around on their stem. Sieni are commonly found in groups along with a
Giant Sieni
.
Sieni means mushroom in Finnish.
By request of the people of Stevonia, there is also a line of Seini being produced that don't have

the poisonious qualities of the ones used in battle. These can be distincted by their brownish stem insted of white.
Harmless Sieni are only 9.95 credits each, and come through the mail as a seed, so you can plant it.
All types of Sieni require no food, only sunlight and water.
Ad blocker interference detected!
Wikia is a free-to-use site that makes money from advertising. We have a modified experience for viewers using ad blockers

Wikia is not accessible if you've made further modifications. Remove the custom ad blocker rule(s) and the page will load as expected.