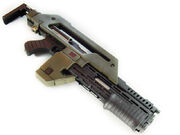 The Arms company from
Trevon
 once released classic ballistic weaponry to be sold to other nations and supplied to mercenary companies. Weapons such as the X-17 Assault Rifle and the M-8 Super Shotgun were supplied by the TAC. After the breakup of Trevon by the
United Space Republics
,
SkyClan
received the TAC, which was given to
Deron
, and eventually merged into
Verromex
.
Ad blocker interference detected!
Wikia is a free-to-use site that makes money from advertising. We have a modified experience for viewers using ad blockers

Wikia is not accessible if you've made further modifications. Remove the custom ad blocker rule(s) and the page will load as expected.