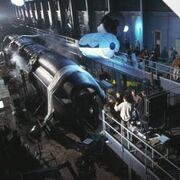 Virgil
is a ship from the movie
"The Core"
. Many 
Deron
ships are based off of this ship. Virgil was designed to travel into Earth's core and restart Earth's outer core by releasing nuclear bombs. Deron used the ship's basic design to design it's Virgil-type ships, such as the
Asteroid Decimator
and
Laser Virgil
. A replica of the ship is displayed at the
Deron's Ship History Museum
.
Ad blocker interference detected!
Wikia is a free-to-use site that makes money from advertising. We have a modified experience for viewers using ad blockers

Wikia is not accessible if you've made further modifications. Remove the custom ad blocker rule(s) and the page will load as expected.